Car boot haul
As much as I hate working in the shop, it does have its benefits - namely being able to visit the car boot sale down the road on Saturday mornings. I am a sucker for car boots, and this is quite a good one, though there are alot of stalls run by junk/antique shop owners getting rid of things that they've picked up in job lots and can't sell.
Fortunately for me, stuff from the 1930-1950s seems to come under that heading :D Over the last few weeks I've amassed quite a lot of interesting *ahem* junk.
Obviously there are *lots* of books, some I picked up because they are actually about film, including a copy of 'Footnotes to the Film', a collection of essays by people like Hitchcock, Robert Donat, Alexander Korda and Graham Green about the making of film. It was published in 1938, so it is perfect time-wise. It's also got a few illustrations, usually film stills, including a still from 'Der Cabinet des Dr Caligari', but, annoyingly, Conrad Veidt is not in the picture :(
I've also picked up a few silly little 1950s-1960s novels for teenage girls. Each is part of a series about a young career woman; 'Sara Gay, Model Girl in New York', 'Shirely Flight, Air Hostess in Hollywood' and 'Sally Baxter, Girl Reports; The Shamrock Mystery'. There's also another novel for young ladies published by the Religious Tract Society sometime during the 1910s which describes the horrors of working as a schoolmistress. And oh, it has the most
amazing
cover!
That image is painted directly onto the fabric covering of the book. I have one of two others which are similar, but they are printed using only black, or black with gold accents. I *love* this cover. It's not in amazing condition, but if it were I'd consider reusing it, but I'm not sure what I'd make from it. A notebook? Just frame it?
This Saturday I picked up another fantastic, totally 'of it's time' book. From dating the films and events mentioned in it, it seems to be about 1956-1958.
If I mention that this was published by the Daily Mirror, it shouldn't surprise you. It's full of tips on how to be lovely, including how to understand your figure. Are you a parsnip or a pineapple?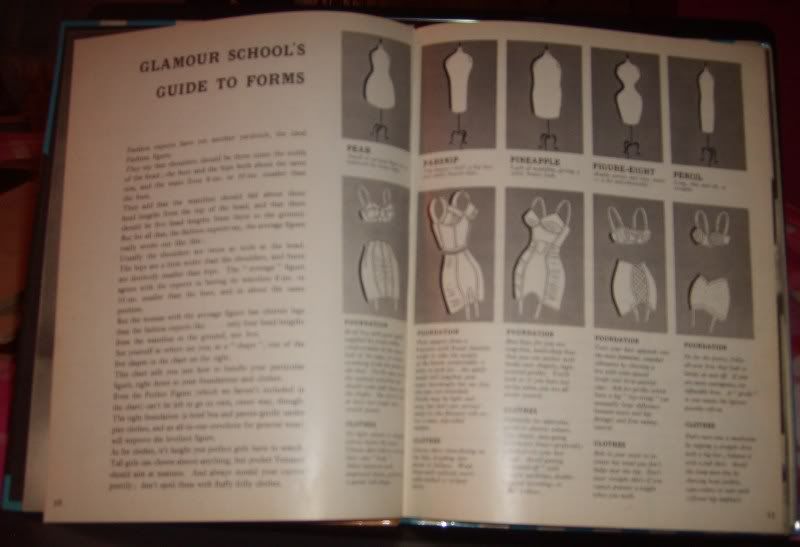 Oh, also, an inscription in the front of a copy of 'South Riding' I picked up. 'SR' is a novel about a county council in the South Riding of Yorkshire (which is fictional btw - though we had Ridings until, I think, 1974, there were only three; East, West and North). It was made into a film in 1937 which was why I bought it.
Amongst a scattering of bits and bobs I've picked up are a few postcards, including one from Morecambe which amuses me.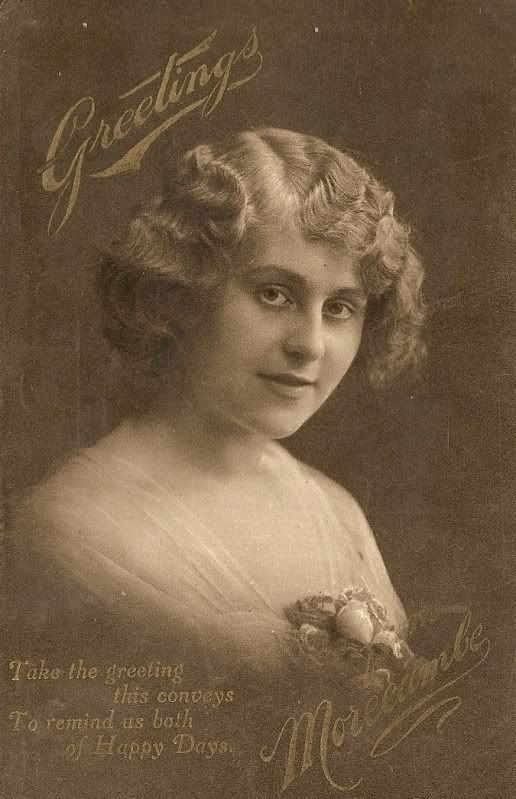 Hard to believe Morecambe was ever that glamorous! Plus another of the Eiffel Tower, sent in 1924, and one of London, probably from the mid-late 1930s.
An early 20th century Snakes and Ladders board cost me 20p, and I think I'm going to make it into a table. It's gorgeous and hilarious at the same time. The label on the front advertises it as an 'Oriental Past Time'. Apparently the game originated in India, as a morality game for children. This one is of British manufacture, and the squares do have virtues and vices on them, a snake leads from a square entitled 'Bad Temper' straight down to 'Murder', while Pride/Fall, Stealing/Prison, Industry/Success, and Kindness/Reward are all linked together, all of which makes more sense than the current versions!
Ugh! Every fortnight there is a stall selling old records and record players, including a few players from the 1930s. I WANT ONE SOO BAD! But they're about £60-£80 so I can't justify it. I have bought a couple of old 78s though, to play on my modern player. The audio quality is crap but I love them. One of the records got broken on the way home, but I glued it together (lol!) and it still plays! While I resisted the record players, I did not have it in me to resist this;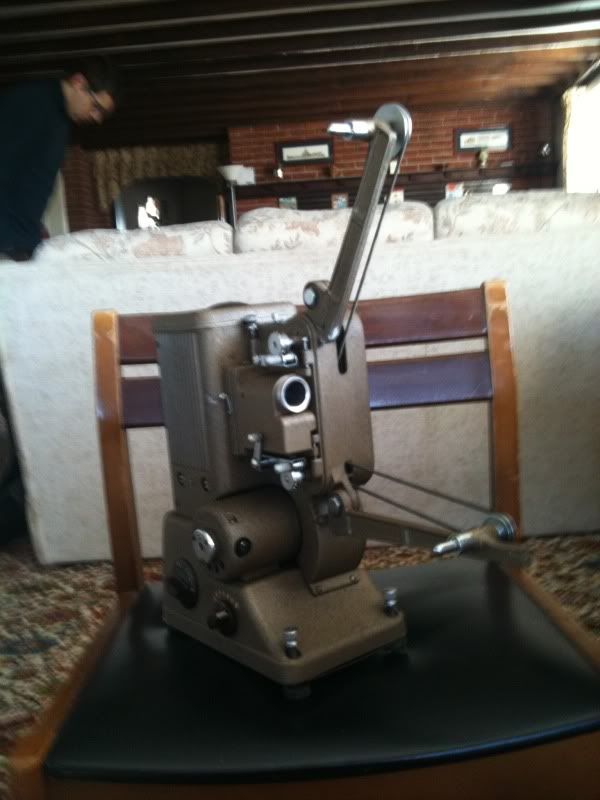 That m'dears, is an 8mm film projector, which I got, complete with carrying case. It seems to be a pretty rare one so I'm having difficulty finding out anything about it, but I'm looking forward to getting it cleaned up and working, although I do need to buy some film to try on it! The guy I bought it from (for £20! :D) claimed it was used during the blitz to show films down in the airraid shelters, though I don't know if that's true.
Finally, I got these this week,
Albums full of cigarette cards. The cards are all of film actors from the 1930s. Some of the illustrations of the actors are as over-flattering as modern airbrushing, as much as I love Katharine Hepburn she was never
'cute'
.
Two of the albums are complete, while the third has some cards missing, including these two...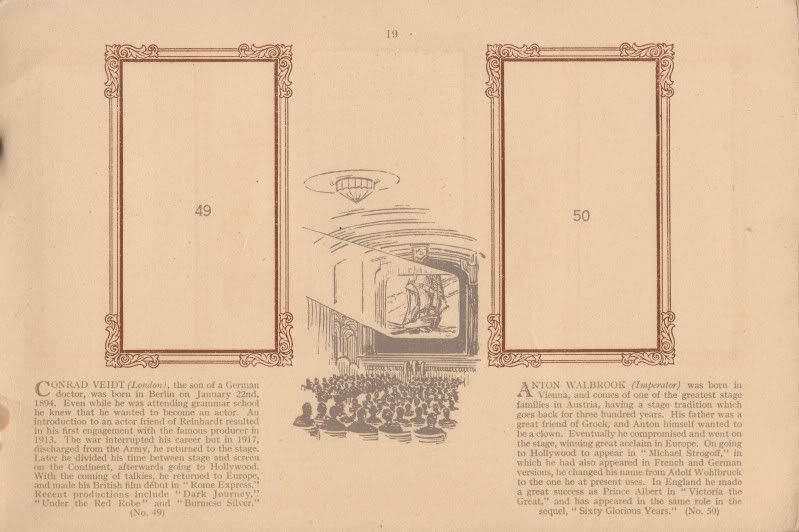 Which is just
typical
!
Comments {1}